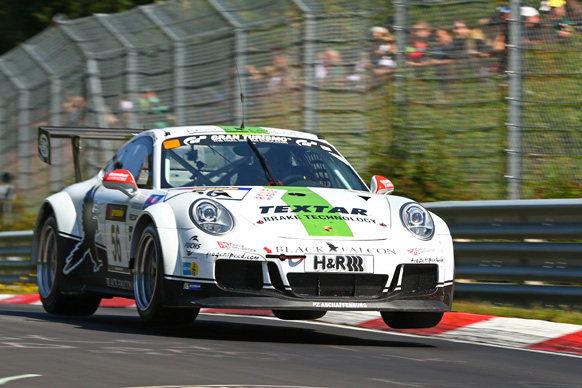 Things are going to get a little tight next weekend in pit box number 33 of the Black Falcon team. Next Saturday Black Falcon will begin the sixth round of the VLN with six Porsches and a Mercedes, while Black Falcon vehicles will be represented in six different VLN classes.
Only a short time after the 24 Hours of Spa-Francorchamps the SLS AMG GT3 with starting number 2, which came in fifth at the 24h race at the Nürburgring, will return to the Nordschleife with drivers Hubert Haupt, Adam Christodoulou and Andreas Simonsen. With this strong team of drivers the aim of the trio that is starting in the VLN Specials SP9 class is clearly a place on the overall podium of the 6th VLN run.
The fourth round of the VLN Endurance Championship on Saturday was, as expected, an exhausting tour de force for all involved. Not only the already high material requirements in "green hell", but in particular the extreme temperatures demanded a great deal from man and machine. The Black Falcon Team TMD Friction, which began the race with five vehicles, also suffered several setbacks after a hitherto very successful year.