Hits: 14341
The Black Falcon watch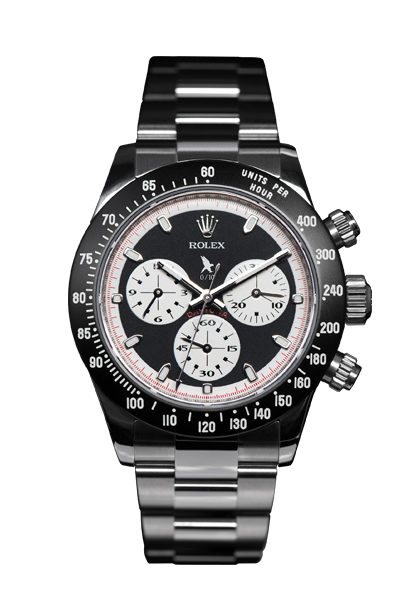 2016 is a very special year for Black Falcon – an anniversary we want to celebrate in our own special way. For 10 years we, as a team, have been fighting tirelessly against the clock with heart, soul and passion. Lap after lap and year after year. We've always given it everything we've got and achieved very much together. Our passion for motorsports and our ambition are the drive that always makes us strive for new goals.
And we're proud of that.
As a sign of our passion and not least our gratitude for what we have achieved together, we have come up with something very special for this anniversary: The Black Falcon Rolex Daytona in a strictly limited special edition of only 10 pieces – matching our anniversary.

A design icon with
a racing history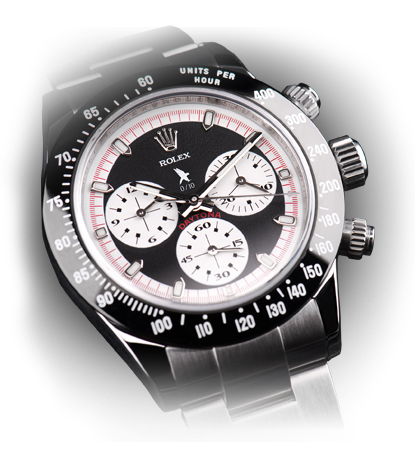 In 1963 the Rolex "Cosmograph Daytona" joined the race as the first Rolex with which one could measure lap times, distances and speeds at races thanks to the tachymeter engraved on the bezel. With this feature, which was a true sensation at the time, it quickly became the timepiece of choice for race and rally drivers. It is therefore quite understandable that Daytonas with accordingly early serial numbers are today among the most coveted collectors' items, fetching highest prices at auctions. And we believe that this legendary watch is exactly the right choice with which to commemorate our anniversary – and you've got the possibility of taking part.

Something special for the
10th anniversary
In celebration of our tenth birthday, the Black Falcon watch will be refined by a renowned and innovative specialist: Blaken .
The enhancement includes the patented "Diamond Like Carbon" procedure, which is applied in this way only by Blaken. It takes more than 16 days until a Blaken has undergone all processes of the watch ennoblement. The result is a jewelry-like, perfect surface the gloss and hardness of which can hardly be exceeded with current technology. This makes the Black Falcon watch a really exclusive collector's item and an impressive statement of contemporary watchmaking.
Other features:
Hand-painted dial in Black Falcon design
Polished bezel with UV hardened tachymeter scale
Engraved caseback with numbering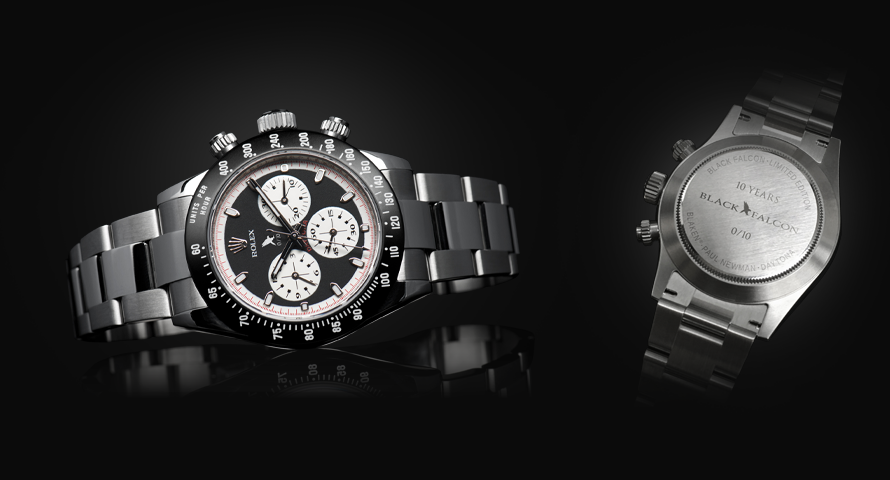 Stylish investment
Rolex stands for highest quality, sportiness and precision – just like Black Falcon. And similarly to the way in which we further refine the best high-tech sports cars with our very own handwriting and passion to provide maximum performance, Blaken Rolex changes watches into special unique items. With our limited Anniversary Edition you will therefore not only be displaying style and individuality – you will also be investing in an individual masterpiece with value enhancement.
If you are interested in a Black Falcon watch, please feel free to contact us. We are currently still holding back a quota of the limited edition for sale and can therefore offer you your personal timepiece now.