Hits: 1525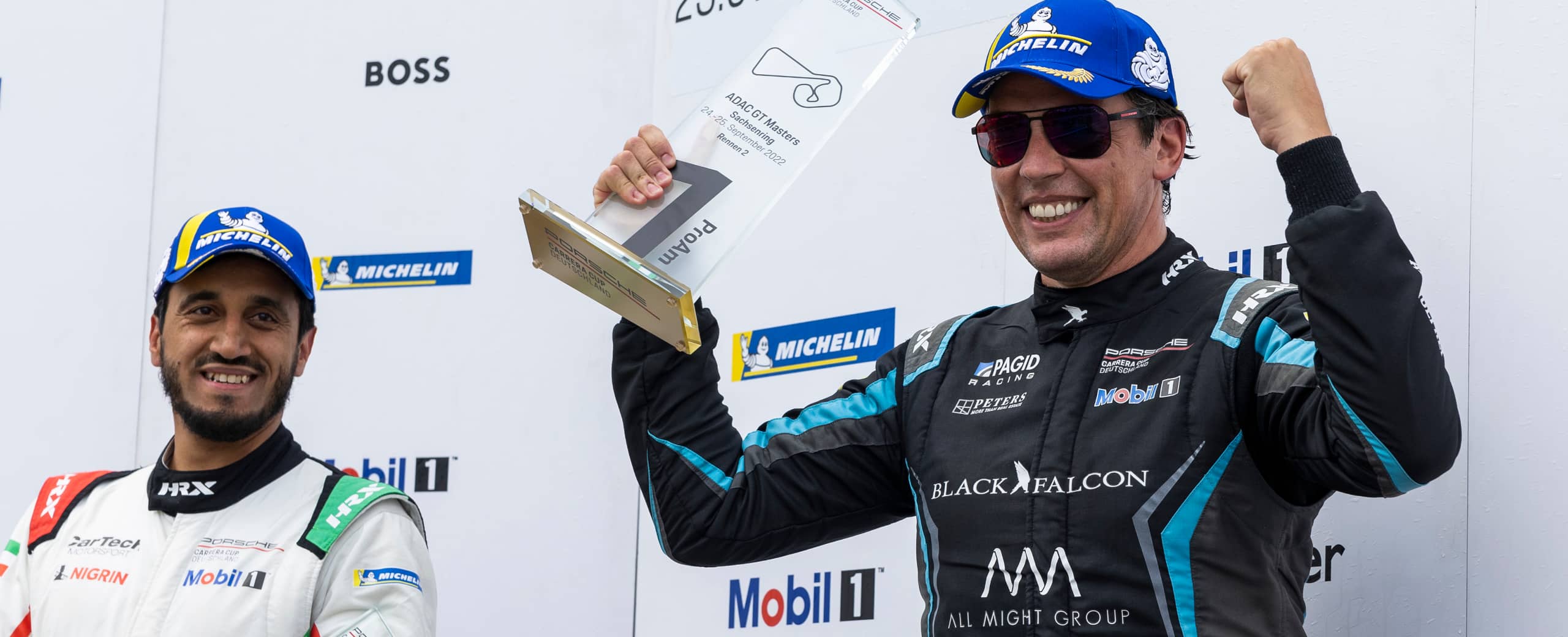 With two top five results for Loek Hartog and two wins in the ProAm classification for Carlos Rivas, BLACK FALCON achieved a strong team result at the penultimate race of the Porsche Carrera Cup Deutschland season at the Sachsenring. In the final sprint for the championship positions, Hartog, Rivas and Sören Spreng secured important points.
For Loek Hartog (#4), the weekend started with an excellent qualifying session. The BLACK FALCON junior driver put his Porsche 992 GT3 Cup in second on the grid on Saturday and sixth on Sunday. In the first race, which was interrupted by several safety car periods, the Dutchman fought for victory in the leading group until shortly before the end. On the last safety car restart, however, Hartog was forced off the track. He crossed the finish line in fifth place, but moved up to fourth at the end of the race due to a penalty for the competitor who had pushed him off. On Sunday, Hartog gained a position during the race and crossed the finish line in fifth place and as the highest placed Talent Pool driver after a good performance.
Carlos Rivas (#6) performed brilliantly at the Sachsenring and claimed all the top positions in the ProAm standings. The Luxembourger clinched the ProAm pole position in qualifying for both races. Rivas was also unbeatable in both races. He set the fastest lap in the ProAm standings in both races and, with victories in races seven and eight, kept his chance alive to become ProAm champion again at the season finale in Hockenheim. Before the last two rounds, Rivas is 18 points behind the championship leader.
Sören Spreng (#5) got off to a good start to the race weekend with a strong qualifying session, putting his 911 in ProAm grid position two for Saturday and fourth for Sunday. In the first race, Spreng was within striking distance of team-mate Rivas in second position until shortly before the end of the race, before he had to park his car after spinning with problems in the clutch system. On Sunday, the driver from Hemer drove a race worth seeing with many duels and position changes. Spreng collected important points in fifth place and still has every chance of finishing third in the ProAm championship at Hockenheim.
Timo Frings, Head of Motorsport BLACK FALCON:
"We scored important points at the Sachsenring and had a strong pace. Thanks to Carlos' double victory, we have postponed the championship decision in the ProAm standings to Hockenheim. Loek also still has the chance to improve one position in the championship after two strong top-5 results. The same goes for Sören, who had the pace this weekend, but unfortunately not the necessary racing luck. In Hockenheim, we'll be going all out again and want to bring the season to a successful close with a strong team result."
­On the social media channels of BLACK FALCON you can find continuous updates about the current season:
instagram.com/teamblackfalcon facebook.com/teamblackfalcon