Hits: 417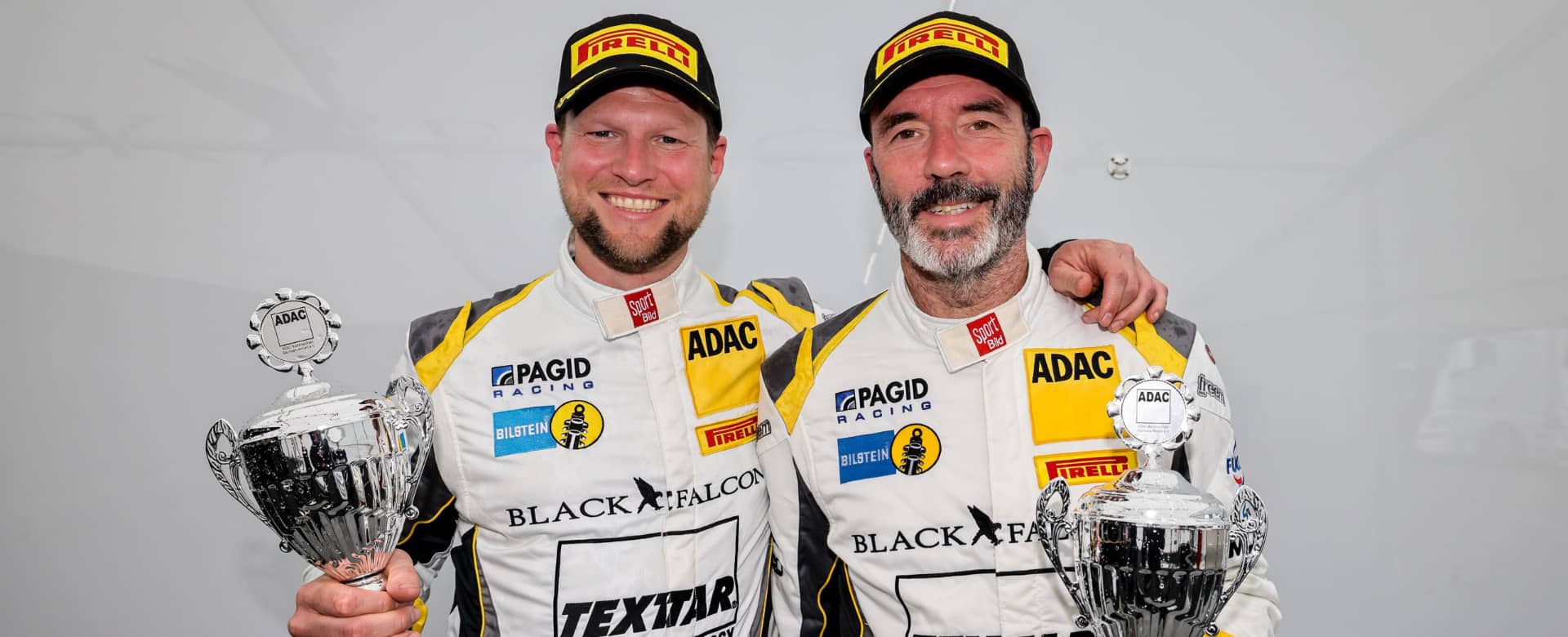 After a successful premiere last year, the BLACK FALCON Team TEXTAR will again compete in all races of the ADAC GT4 Germany in the 2022 season. For the new season, the team from Meuspath is switching to a Porsche Cayman GT4 RS Clubsport, the most spectacular version of the proven Porsche Cayman GT4 Clubsport to date. The brand-new "RS" model relies on the 4-litre engine from the Porsche 992 GT3 Cup as well as a 7-speed gearbox and is thus significantly more powerful than its predecessor. The GT4 RS will be driven by BLACK FALCON GT4 Germany regulars Axel Sartingen and Daniel Schwerfeld. The experienced duo will again compete in the "Trophy classification", a class for drivers who have reached the age of 35 and have been classified by the FIA in the "Bronze" category. Sartingen and Schwerfeld are entering the new season with great ambitions after a successful debut season. After a number of podium finishes and fourth place in the championship last year, they are aiming for their first class victory this season as well as a place in the top three of the Trophy standings.
Timo Frings, Head of Motorsport BLACK FALCON:
"After many successes with GT4 cars in endurance racing, we competed in a pure GT4 racing series for the first time last season. With Axel and Daniel, we celebrated several podium finishes in the Trophy classification and have steadily improved. This year we have a more powerful car at our disposal, which will benefit us especially in the often close duels. Our goal for this year is the first class victory in the Trophy classification as well as a top-3 result in the championship. We are already looking forward to the season opener at Oschersleben."
About the ADAC GT4 Germany
The ADAC GT4 Germany is aimed at aspiring young talents and ambitious racing amateurs. Drivers who have been classified in the Silver or Bronze category by the FIA, the world governing body for motorsport, are eligible to start.
All races will take place as part of the ADAC GT Masters supporting programme. Two races over a distance of one hour will be held each weekend. In each race, both drivers will take turns at the wheel during the mandatory pit stop in the middle of the race.
A system of vehicle classification (so-called Balance of Performance) ensures equal opportunities between the different vehicle concepts. Before the start of the season, a basic classification is determined, which is continuously checked during the season and adjusted if necessary.
Live broadcast
The ADAC GT4 Germany races will be broadcast live and free of charge, details will be announced by the organisers shortly. Specific broadcast details will follow in the run-up to the race weekends on BLACK FALCON's social media channels.
ADAC GT4 Germany race calendar
22 - 24.04.2022 Race 1 & 2 Oschersleben
20 - 22.05.2022 Race 3 & 4 Red Bull Ring
24 - 26.06.2022 Race 5 & 6 Zandvoort
05 - 07.08.2022 Race 7 & 8 Nürburgring
23 - 25.09.2022 Race 9 & 10 Sachsenring
21 - 23.10.2022 Run 11 & 12 Hockenheimring
On the social media channels of BLACK FALCON you can find continuous updates about the current season:
instagram.com/teamblackfalcon facebook.com/teamblackfalcon