Hits: 198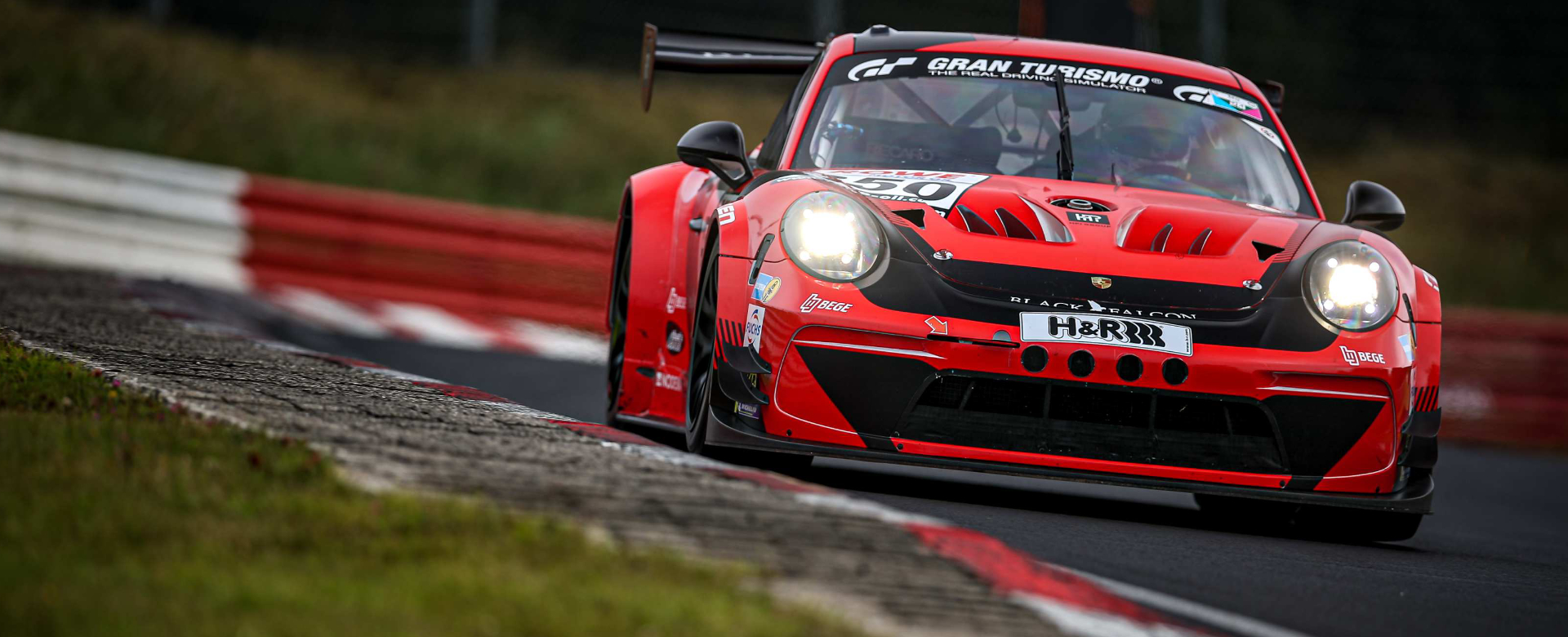 BLACK FALCON clinched victory in the SP8T and SP-PRO classes at the seventh round of the Nürburgring Endurance Championship (NLS), the ROWE 6 Hours ADAC Ruhr-Pokal Race, last Saturday. At the same time, the squad from Meuspath represented the best-placed vehicle outside the top class SP9 (GT3 cars) with the Porsche 911 GT3 Cup MR (#350) in 10th position overall.
BLACK FALCON Team TEXTAR
BLACK FALCON Team TEXTAR celebrated two class wins at the NLS season highlight. The two Dutchmen Paul Harkema and Niels Langeveld secured their second win of the season and their best career result on the Nürburgring Nordschleife with the Porsche 911 GT3 Cup MR (#350), which they were driving for the first time in the SP-PRO class configuration. After a strong and flawless performance, they crossed the finish line as the best-placed BLACK FALCON car in an excellent tenth place overall, leaving several of the significantly more powerful GT3 cars behind. In the SP8T class, Mustafa Mehmet Kaya, Gabriele Piana, Mike Stursberg and Ersin Yücesan prevailed with their Mercedes-AMG GT4 (#140). In addition to their fourth SP8T class win in this NLS season, the quartet secured a strong 17th place overall in the top-class field. For the Porsche Cayman GT4 (#950) of "Iceman", Martin Meenen and Vasilii Selivanov the race day ended after a good qualifying due to an accident already in the first race lap.
BLACK FALCON Team IDENTICA
The Porsche 911 GT3 Cup MR (#57) of Noah Nagelsdiek, Florian Naumann, Carlos Rivas and Hendrik von Danwitz started in the SP7 class for the first time this season. The quartet of BLACK FALCON Team IDENTICA drivers dominated the eight-car class during the first hours of the race and managed to build up a comfortable lead of several minutes. However, a technical defect in the drive train unfortunately ended the race prematurely and prevented another top result.
Timo Frings, Head of Motorsport at BLACK FALCON:
"After an eventful weekend, the top-10 finish of the Porsche 911 GT3 MR in the SP-PRO class is certainly worth highlighting. I'm particularly pleased that Paul and Niels were able to show their great potential again after a lot of bad luck in the season so far. To finish in the top 10 in the NLS 6h race with a non-GT3 car is definitely a real achievement. Also, the already fourth NLS class win of our AMG GT4 this season, combined with 17th overall, is an excellent result. The two retirements with the SP7 Porsche and the Cayman are of course a shame, we were simply unlucky here this weekend and will be back on full attack at the two NLS rounds still to come."
­On the social media channels of BLACK FALCON you can find continuous updates about the current season:
instagram.com/teamblackfalcon facebook.com/teamblackfalcon