Hits: 740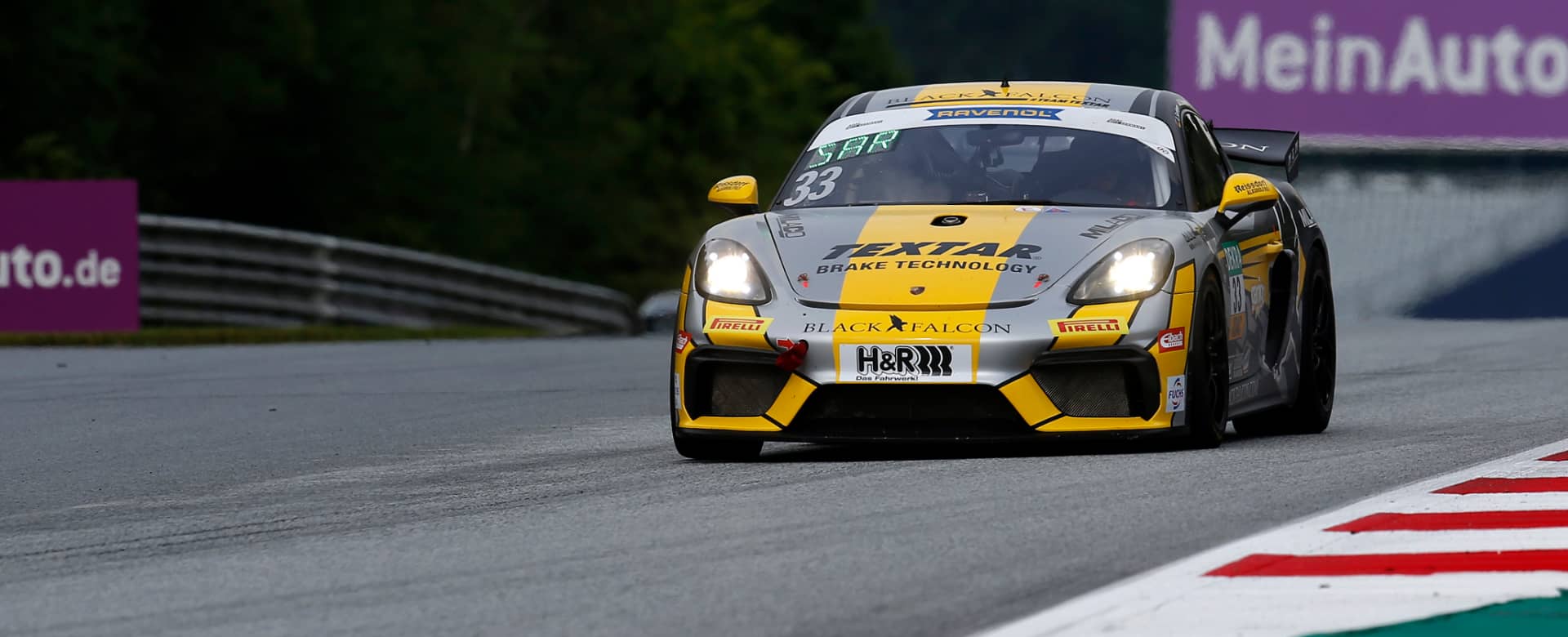 ADAC GT4 Germany Red Bull Ring - Race Report

The second championship weekend of the ADAC GT4 Germany at the Red Bull Ring in Austria was a rollercoaster of emotions for the BLACK FALCON Team TEXTAR. After good performances by Axel Sartingen and Daniel Schwerfeld in free practice, the team was well prepared for Races 3 and 4 of the season. On Saturday, Sartingen took over the 20-minute qualifying session and put the Porsche Cayman GT4 (#33) on grid position three in the Trophy classification. However, the race ended prematurely on the first lap with a violent crash into the guardrail, which severely damaged the Porsche. Despite frame damage in the front area, the BLACK FALCON team did not give up on the car and worked until the early hours of the morning to get the vehicle back on the grid for the second race. Among other things, the BLACK FALCON mechanics replaced all wheel suspensions, various bodywork and add-on parts as well as a frame part at the front of the car. On Sunday morning, Schwerfeld first completed a successful function test in qualifying for the second race and then drove the third fastest time in the class with the Cayman. In the race, Schwerfeld and Sartingen fought intense battles for positions with their opponents and eventually finished in third place in the Trophy classification.
Timo Frings, Head of Motorsport BLACK FALCON:
"We have had a very thrilling weekend. After the accident, it was immediately clear to us that the car was badly damaged and we were in for a long night. A big compliment to the team and everyone involved who helped with the repairs - many thanks for their tireless efforts! In the second race, the car worked excellently - Daniel was even able to match the times of the front runners at times. In the end we were rewarded for our hard work with a podium finish, it couldn't have gone much better after the bad luck on Saturday."
The next ADAC GT4 Germany race will take place on the second weekend in July (08 - 10 July) at Zandvoort in the Netherlands.
On BLACK FALCON's social media channels, there will be continuous updates on the current season:
instagram.com/teamblackfalcon facebook.com/teamblackfalcon