Hits: 1491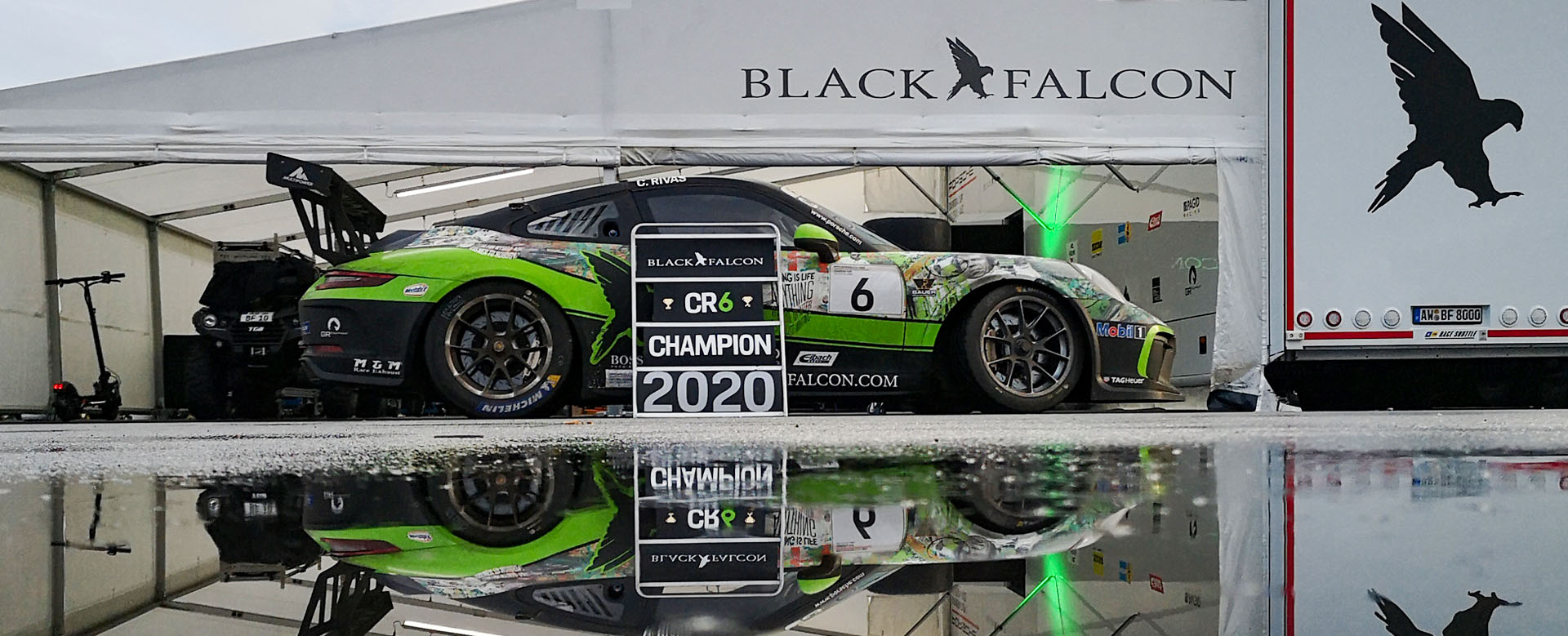 Porsche Carrera Cup Deutschland - Race Report Round 4 2020
The BLACK FALCON Team TEXTAR has secured an early title defence in the ProAm classification of the Porsche Carrera Cup Deutschland with their driver Carlos Rivas. At the penultimate race weekend at the Lausitzring (30.10. - 01.11.), Rivas celebrated his seventh and eighth victory of the season and is unbeatable in the championship standings with two races remaining. The 43-year-old from Luxembourg thus defends his title as best ProAm driver in Germany's fastest one-make cup and gives BLACK FALCON the second consecutive championship in the Porsche Carrera Cup Germany.
The fourth year together in the Porsche Carrera Cup Deutschland has gone almost perfectly for BLACK FALCON and Carlos Rivas so far. At the season opener in Le Mans, "CR6" started his first season as defending champion with a victory in the Pro-Am classification on the legendary "Circuit des 24 Heures" and full points. The second race weekend at the Sachsenring, where three races were held on one weekend for the first time, saw Rivas claim two more race wins and a second place. At the third stop on the Red Bull Ring, the Luxembourger again dominated the ProAm classification and secured an optimal starting position for the season's final stretch with three wins out of three races.
The penultimate race weekend at the Lausitzring was characterised by extremely difficult weather conditions. Numerous rain showers and low temperatures ensured a constantly wet track and countless slips by almost all drivers. Unimpressed by this, Carlos Rivas placed his 485 hp Porsche 911 GT3 Cup on pole position in the ProAm standings for the eighth and ninth races of the season and the seventh and eighth time respectively. After a dominant start-finish victory in Saturday's race, he secured the early title win in the ProAm championship with another victory on race Sunday.
In addition to the second championship title, Rivas reached another milestone this weekend with cross-season race wins #25 & #26. After only four seasons, the 43-year-old is now the second most successful ProAm driver in the Carrera Cup's eternal leaderboard. Looking back, Carlos Rivas has won almost half of all races with BLACK FALCON since 2017.
Next weekend (6th - 8th November) the Porsche Carrera Cup Deutschland will complete its season finale at the Motorsport Arena Oschersleben, the perfect ending to a successful season for Carlos Rivas.
BLACK FALCON's social media channels will provide regular updates on the season finale:
instagram.com/teamblackfalcon facebook.com/teamblackfalcon