Hits: 1478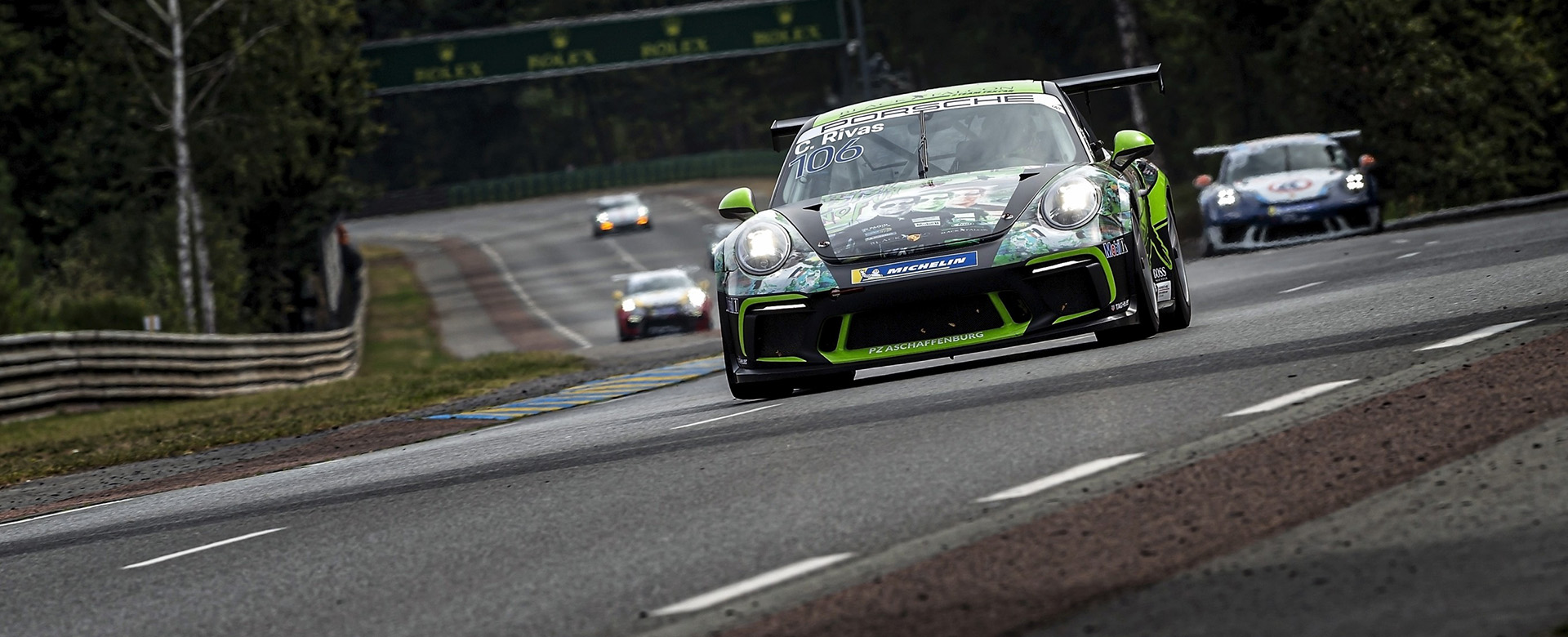 Porsche Carrera Cup Germany - Race Report Round 1 2020
BLACK FALCON and Carlos Rivas won the race in the Pro-Am class at the season opener of the Porsche Carrera Cup Deutschland. In the 45-minute sprint race on the legendary Circuit of the 24 Heures in Le Mans, the reigning Pro-Am champion delivered a perfect performance in the most difficult conditions. After a rain shower in the night, the 50-plus-strong mixed field of Carrera Cup Germany and Porsche Carrera Cup France completed the first kilometers in wet conditions this weekend during the formation lap. BLACK FALCON Team TEXTAR driver Rivas had previously dominated the Pro-Am class on Friday in two free practice sessions and one qualifying session on a dry track and started from pole position in the class. After an additional formation lap to acclimatize to the track conditions, the race started with about 40 minutes remaining. Within a very short time, spectacular slipstream duels and close fights developed. Several safety car phases caused the field to close up again and again after a few laps at race speed. Rivas focused on his race and brought his 485 hp Porsche 911 GT3 Cup, which is wrapped in an "art car" design this season, to the finish line as an outstanding overall 26 and as winner in the Pro-Am-Class of the Porsche Carrera Cup Germany.
Comments on the race
Carlos Rivas, driver Porsche 911 GT3 Cup, starting number 106: "The whole weekend here was extremely exciting. For me, it was the first race on the legendary Le Mans track ever, so the race was quite challenging in wet conditions. We definitely got everything right today and took the maximum number of points in the Pro-Am classification with us. We are happy to continue this successful race."

Timo Frings, Head of Motorsport BLACK FALCON: "Carlos delivered a perfect performance today in the most difficult conditions: In a 50-vehicle field and without ABS in the rain he got everything right and brought the car to the finish without a single scratch. He was the fastest Pro-Am driver all weekend and more than earned the Le Mans victory."

For BLACK FALCON, this coming weekend marks the big highlight of the season. The team from Meuspath will start with three cars at the 24-hour race on the Nürburgring. Further details about the 24-hour commitment will follow shortly.