Hits: 949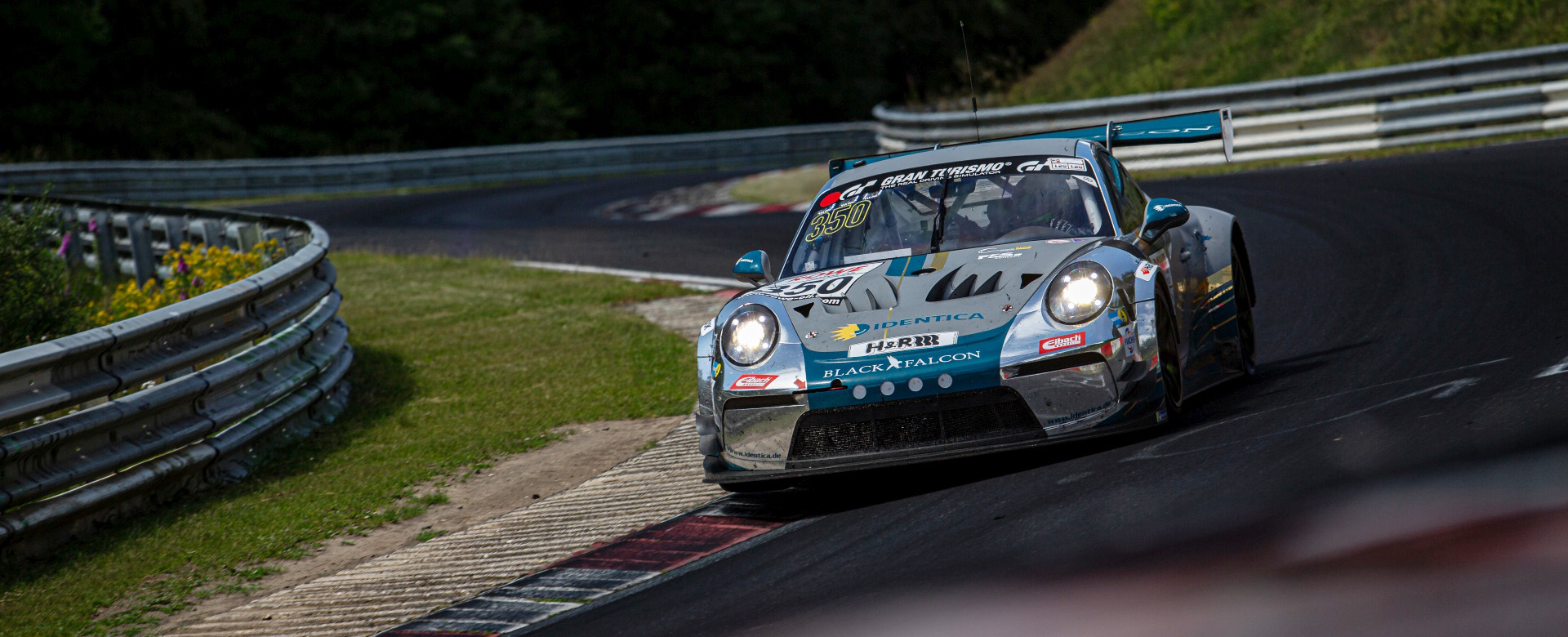 Nürburgring Langstrecken-Serie - Race Report Round 1 2020

BLACK FALCON clinched two class victories and a second place in the first race of the Nürburgring Endurance Series 2020. The Porsche 911 GT3 Cup MR SP-PRO entered by BLACK FALCON Team IDENTICA drove to 15th place overall in its international race debut and was thus the best-placed vehicle outside the GT3 category. In the SP8T class the BLACK FALCON Team TEXTAR scored a dominant start-finish victory with the Mercedes-AMG GT4. Among the production cars, the BLACK FALCON Team TEXTAR achieved second place in the V6 class with a Porsche 991 Carrera.
At the first race of the new Porsche 911 with number 350, developed for the NLS-class SP PRO, Marek Böckmann (Germany), Tobias Müller (Germany) and Carlos Rivas (Luxembourg) set a strong example. Starting from position 21, the trio, which started for the BLACK FALCON Team IDENTICA, worked their way up to the front continuously and without mistakes. After four hours of race distance, final driver Müller crossed the finish line in 15th position overall, leaving various GT3 cars behind at the very first start with the new model.
For Stephan Rösler (Germany) and Tristan Viidas (Estonia), the season opener could not have gone better when driving the BLACK FALCON Team TEXTAR Mercedes-AMG GT4 with starting number 155. After the fastest lap of the SP8T class in qualifying, the fastest lap in the race and a flawless performance, their Mercedes-AMG GT4 crossed the finish line as first in its class.
In the near-production class V6 Martin Meenen (Germany) and NLS debutant Andreas Renk (Switzerland) competed for the BLACK FALCON Team TEXTAR with the Porsche 991 Carrera with number 395. In qualifying, the duo fought a close duel for pole position in the class, which they narrowly missed out on by just two tenths of a second. The team of #395 completed the race without any noteworthy incidents and finished as second in class.
"Many thanks to all who made the NLS season start possible under these conditions. The planned measures were well implemented and worked as hoped for. The new Porsche 911 GT3 Cup MR SP-PRO was impressive right from the start and is therefore a fast and cost-effective alternative to the GT3 cars. A total of two class victories and a second place are excellent results, which our drivers and employees have worked hard for, we are very satisfied with our race.
Many thanks to the entire team, our drivers and our partners for the successful season opener", summarised Timo Frings, Head of Motorsport at BLACK FALCON.
After the long wait for the first race of the season, we are now going full throttle. In two weeks time the second and third NLS-race will be on the program in a double event on Saturday and Sunday. Detailed information will follow shortly on the social media channels of BLACK FALCON:
instagram.com/teamblackfalcon facebook.com/teamblackfalcon