Hits: 1300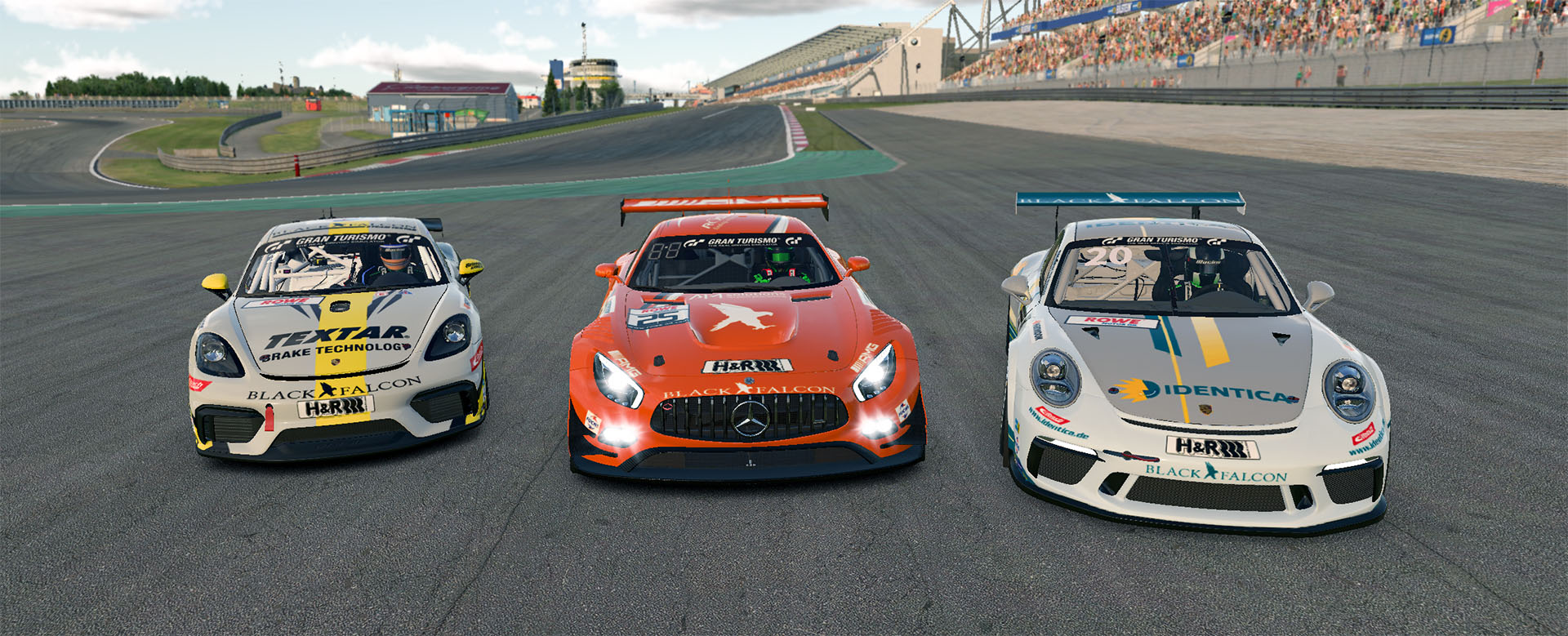 ESports - DNLS Round 2 2020 - Preview ­­ ­

This coming Saturday, BLACK FALCON will compete in the first SimRacing race in its team history. At the second round of the DNLS (Digital Nürburgring Endurance Series) BLACK FALCON will enter three cars with a diverse mixture of real racers and SimRacing professionals. The 3-hour digital endurance race features the NLS (formerly VLN) version of the GP sprint track and Nordschleife, which is transferred to the simulation with millimetre precision using laser scanning technology. The digital appearance of the team is just as realistic as the track: BLACK FALCON starts with a Mercedes-AMG GT3, a Porsche 991 GT3 Cup and a Porsche Cayman GT4. The cars will compete in the original designs planned for 2020, so all BLACK FALCON partners will also be present on the vehicles of the digital NLS.
"With the digital NLS, we want to offer BLACK FALCON drivers and partners an opportunity to continue racing together and successfully in the current situation", explains Timo Frings, Head of Customer Racing at BLACK FALCON. "With the DNLS the organizer provides us with an interesting platform, which thanks to the livestream, the online coverage and the authentic commentators on the track is an ideal basis for our entry into digital racing".
Sean Paul Breslin, team manager BLACK FALCON GT Racing, adds: "Of course we are aware that in the DNLS we meet professional SimRacing teams, who usually are the ones who determine the victory among themselves. However, we deliberately chose a mixture of BLACK FALCON drivers and Sim-Racing professionals in order to optimally combine real racing with the digital world. We are very curious to see how our learning curve will develop".
The AM SOLUTIONS-AMG GT3 in the top class SP9 is shared by three genuine SimRacing experienced racing professionals: Nico Bastian (DEU), Dirk Müller (DEU) and Daniel Morad (CAN). In the CUP 2 class, Carlos Rivas (LUX), the reigning amateur champion of the Porsche Carrera Cup Deutschland will race together with SimRacing professional Patrick Schillikovski (DEU) on the IDENTICA Porsche 991 GT3 Cup. In the CUP 3 class, the NLS regular drivers Alexander Akimenkov (RUS), Vasilii Selivanov (RUS) together with Sim-Racer Oliver Beyer (DEU) compete in the TEXTAR-Porsche Cayman GT4.
The DNLS can be watched in the livestream on the official NLS website next Saturday, 04.04.2020. The well known NLS commentators will guide you through the program, the start of the race will be at 1 pm.
Schedule DNLS Round 2

Saturday, 04.04.2020
09:00 - Training
12:10 - Qualification *
13:00 - Race *
* Livestream:https://www.youtube.com/watch?v=U7CUL65NeWQ