Hits: 1585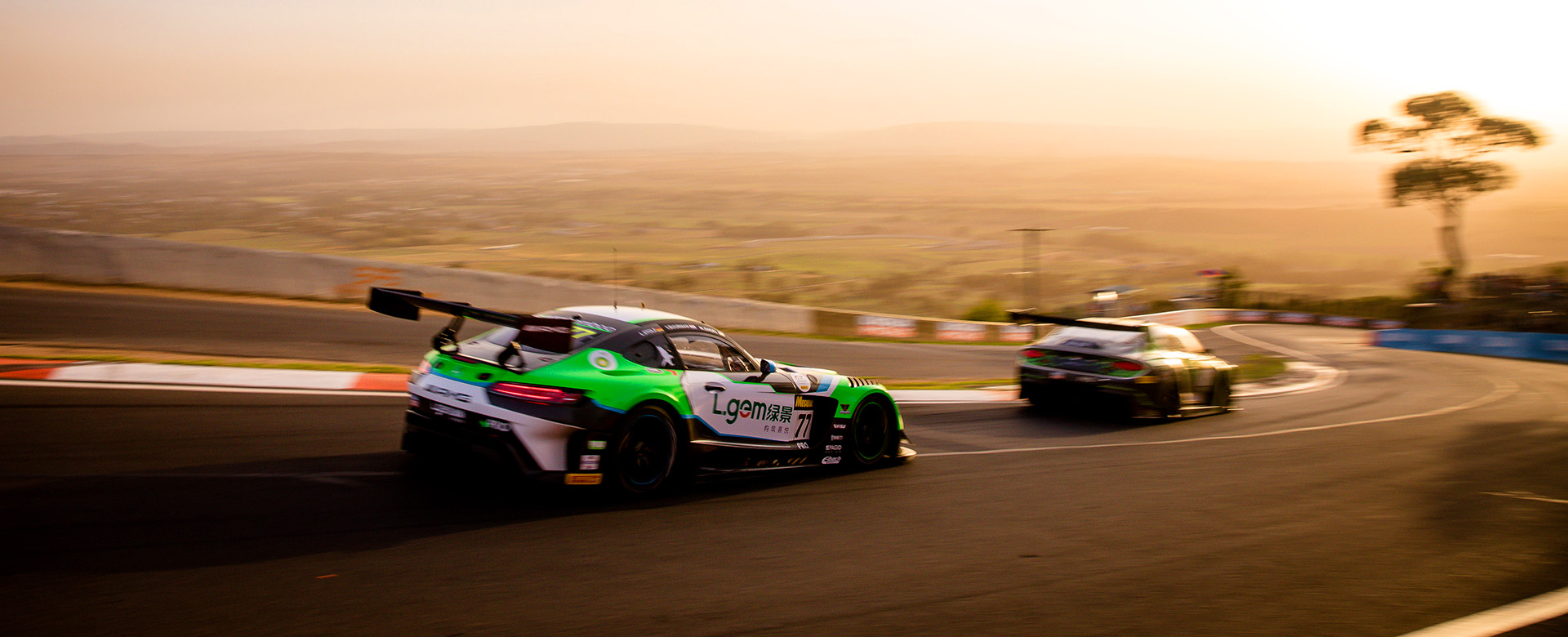 Intercontinental GT Challenge - 12H Bathurst 2020 Race Report

BLACK FALCON achieved a strong team result at the 12-hour race in Bathurst (Australia). Battling temperatures close to the 40°C mark the team claimed third place in the Silver Cup class with the Mercedes-AMG GT3 #46. The Mercedes-AMG GT3 #77 entered in a joint venture with Craft Bamboo Racing finished fifth overall. The crew of #77 was on track for the podium almost to the end before a puncture required an additional pit stop.
Mercedes-AMG Team Craft Bamboo BLACK FALCON #77 - Buurman/Engel/Stolz
The AMG GT3 #77 of Yelmer Buurman, Maro Engel and Luca Stolz demonstrated a strong performance at the 19th edition of the 12 Hours of Bathurst and belonged to the circle of favourites for overall victory right from the beginning. The team reinforced this claim with second place in qualifying and sixth place in the top 10 shootout. After a good start, which in Bathurst traditionally takes place one hour before sunrise in complete darkness, the team established itself in the top group thanks to flawless and consistently fast stints. With less than half an hour remaining on the clock and lying in second position, final driver Engel had to make an additional stop in the pits due to a puncture. The #77 then crossed the finish line in fifth place after 12 hours.
BLACK FALCON #46 - Afanasiev/Assenheimer/Beretta
In the Silver Cup class Sergei Afanasiev, Patrick Assenheimer and Michele Beretta secured their first podium with a strong performance in their first race on the Mount Panorama Circuit. The trio drove a perfect race and brought the AMG GT3 #46 to the finish on the demanding mountain and valley track without a scratch. Over the entire race distance, the team fought a thrilling battle with their rivals for the title and was finally classified as a strong third in the Silver Cup class.
Sean Paul Breslin (Team Principal BLACK FALCON GT): "We came to Bathurst to fight for overall victory. Despite a few problems in the practice sessions, the team was up front the whole time. A puncture knocked the #77 off the deserved podium at the last second. The #46 drove a clean and fast race. The drivers, who all three drove on Mount Panorama for the first time, put in a great performance and deserved to take third place in the class. The cooperation with Craft Bamboo was again excellent. Many thanks to the whole team!
Further information about Team BLACK FALCON can be found daily on the team's social media channels:
instagram.com/teamblackfalcon facebook.com/teamblackfalcon