Hits: 1477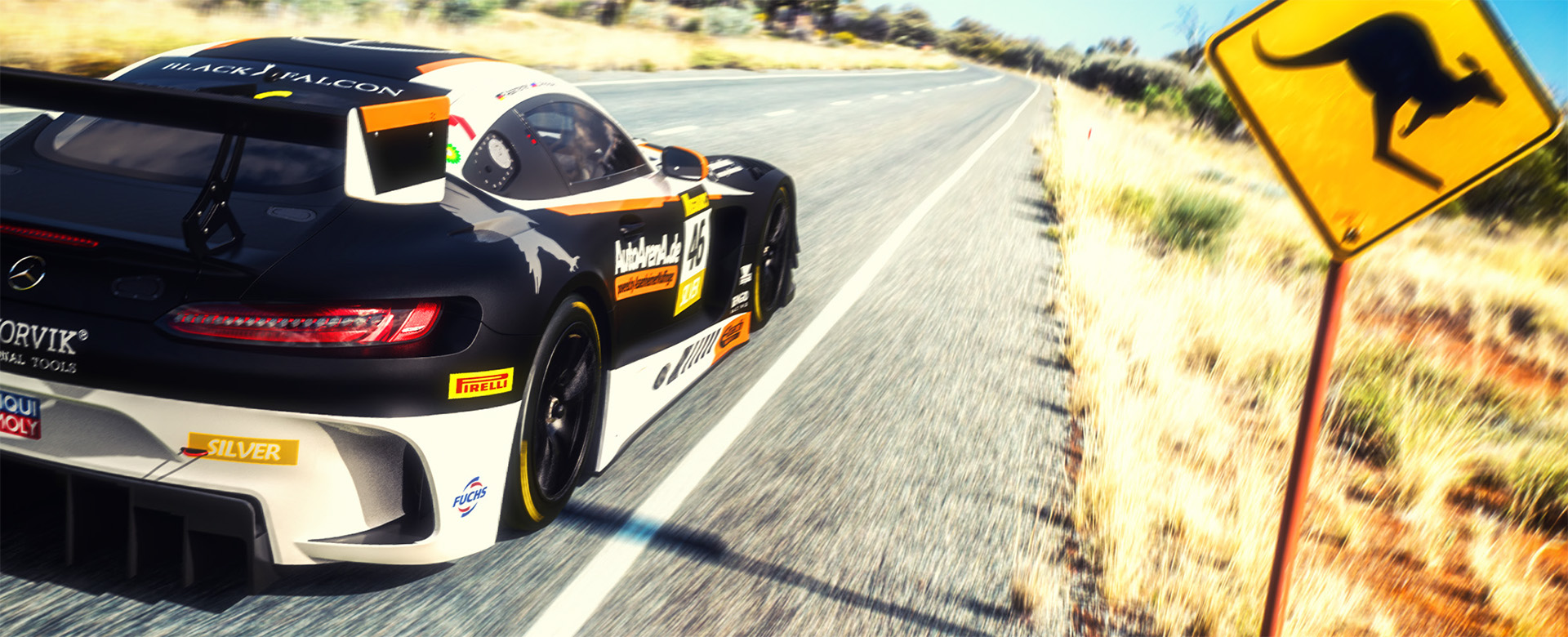 Intercontinental GT Challenge - 12H Bathurst 2020 preview
BLACK FALCON will race 2 Mercedes-AMG GT3 cars at the 12-hour race in Bathurst, Australia, this coming weekend (31.01. - 02.02.2020), which marks the start of the Intercontinental GT Challenge season. As in the previous year, the team from Meuspath, in cooperation with the Hong Kong based "Craft-Bamboo Racing" team, brings an AMG GT3 in the Pro Class (#77) to the grid. The wheel of the #77 is shared by Yelmer Buurman (NL), Maro Engel (DE) and Luca Stolz (DE). In addition, BLACK FALCON will be running its own AMG GT3 (#46) in the Silver Cup class, driven by Sergei Afanasiev (RU), Patrick Assenheimer (DE) and Michele Beretta (IT).
Mercedes-AMG GT3 #77 - Mercedes-AMG Team Craft Bamboo BLACK FALCON - Buurman/Engel/Stolz
For the second time in a row, BLACK FALCON and Craft-Bamboo Racing will compete together in the 12-hour race at Bathurst.After the strong performance last year, when the car was leading for many hours before stopping with a technical issue, the joint team is back to fight for the top honors. The team relies on Yelmer Buurman, Maro Engel and Luca Stolz, one of the most successful and fastest driver trio in GT3 racing in recent years.
Mercedes-AMG GT3 #46 - BLACK FALCON - Afanasiev/Assenheimer/Beretta
In the Silver Cup class, BLACK FALCON will race with Sergei Afanasiev, VLN serial winner Patrick Assenheimer and BLACK FALCON debutant Michele Beretta aboard the Mercedes-AMG GT3 #46. The driver trio is looking forward to the race weekend with great anticipation and will face a completely new challenge in Australia: All three will celebrate their premiere at the 12-hour race of Bathurst and have their sights set firmly on the podium.
The race: One of the biggest challenges on the GT3 calendar
The Mount Panorama Circuit near Sydney, also known as "The Mountain", is world famous for the 1000 km races held since the 1970s. The track winds its way over 6.213 kilometres up to the name giving Mount Panorama and does not forgive any mistakes: Narrow corner combinations and concrete walls set up directly at the edge of the road require the highest concentration from the drivers on their way up and down the mountain. Two long straights, the Conrod Straight (1.916 kilometres) and Mountain Straight (1.111 kilometres), connect the mountain with the start and finish area.
The 12-hour race was first held in the 1990s and has developed into one of the most important races on the international GT racing calendar since the introduction of GT cars. Since 2016, the 12-hour race has also been the traditional season opener of the Intercontinental GT Challenge, the most important championship in GT3 sport. This year, around 40 vehicles, of which 33 are GT3 cars, will compete in the 12-hour race in Bathurst.
Schedule 12H Bathurst (local time / German time)
Friday, January 31
08:40 / 22:40 (-1 day) - 1st free practice
09:15 / 23:15 (-1 day) - 2nd free practice
12:20 / 02:20 - 3rd free practice
15:05 / 05:05 - 4th free practice
Saturday, February 01
08:45 / 22:45 (-1 day) - 5th free practice
12:40 / 02:40 - 1st qualifying
13:35 / 03:35 - 2nd qualifying
17:05 / 07:05 - Top 10 pole shootout *
Sunday, February 02
05:45 / 19:45 (-1 day) - Start 12H Bathurst 2020 *
* Livestream: https://www.intercontinentalgtchallenge.com/live
Further information about Team BLACK FALCON can be found daily on the team's social media channels:
instagram.com/teamblackfalcon facebook.com/teamblackfalcon