Hits: 895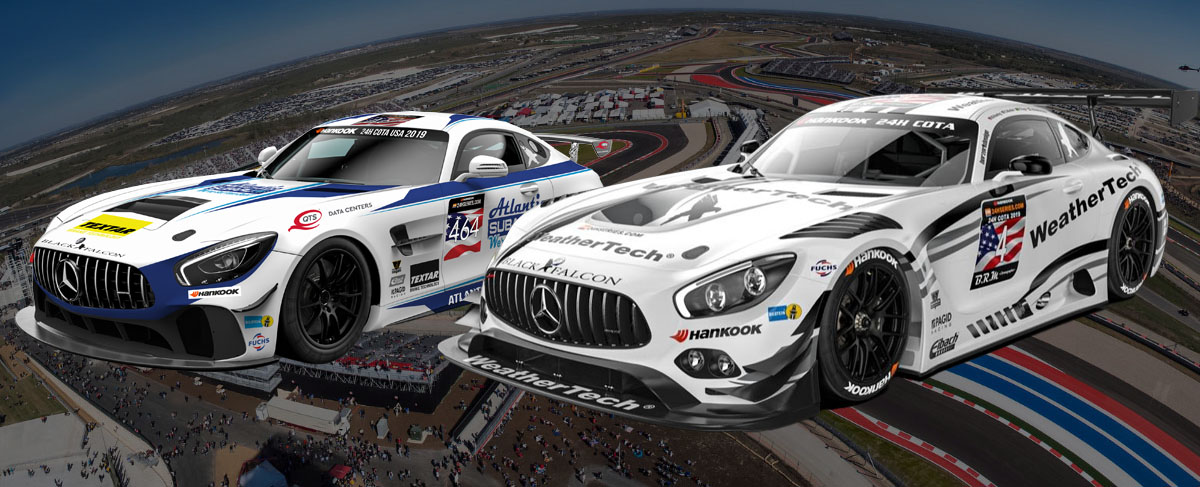 24h Series - Preview 24H CoTA/USA
BLACK FALCON will compete in the third edition of the 24-hour race at the Circuit of The Americas in Austin (USA) with two Mercedes-AMG cars. In the final race of the 24H Series season, the Meuspath team will be racing an AMG GT3 (#4) in the strongest class A6-Pro and an AMG GT4 (#464) in the class SPX. After last year's overall victory, the team wants to be on the podium again - this time in the overall classification and in the SPX class.
Mercedes-AMG GT3 #4 – Bleekemolen/Fraga/Keating/MacNeil
After second place at the premiere in 2017 and last year's victory, the GT3 team has its eye firmly on the third podium finish in a row. For the 24H race CoTA the team cooperates with WeatherTech, the American market leader in the field of interior protection for vehicles. The WeatherTech AMG GT3 will be driven by Jeroen Bleekemolen (NL), Felipe Fraga (BR), Ben Keating (US) and Cooper MacNeil (US). Keating and Bleekemolen already shared the wheel of a BLACK FALCON AMG GT3 in the first two editions of the 24h-CoTA and were on the podium together in 2017. Fraga and MacNeil, on the other hand, will be racing their first race with BLACK FALCON at the 24H-CoTA.
Mercedes-AMG GT4 #464 – König/Schneider/Sartingen/Schwerfeld/Böhm
For the second time after 2017, BLACK FALCON will be competing in the 24H-CoTA with a Mercedes-AMG GT4. The "little brother" of the GT3 rolls to the start in the SPX class, which allows the team to use its full engine power without the balance of performance required by the GT4 category. This gives the AMG GT4 drivers access to more than 500 hp. Axel König (DE), Norbert Schneider (DE), Axel Sartingen (DE), Daniel Schwerfeld (DE) and Alexander Böhm (DE) take turns driving the BLACK FALCON Team TEXTAR AMG GT4, which is supported by Subaru Atlantic, QTS Data Centers and TEXTAR. König and Schneider already know the car from their VLN races, while Sartingen, Schwerfeld and Böhm celebrate their race premiere in the AMG GT4 after several days of testing.
The race: A special format
The 24H CoTA is the only race of the year in which BLACK FALCON participates on the American continent. The 5.516 km race track in the south of Austin (Texas, USA) is known for its special challenge and mixture of fast S-curves, a long back straight and a right turn with four apexes. In addition, the race format provides an interesting change from the classic 24h marathon by dividing the distance into two segments: Eleven hours after the race starts on Saturday morning at 11:30 a.m. (local time), the competition is interrupted for a night's rest and resumed early on Sunday morning. The field continues in the order of the finish and fights for victory for the remaining 13 hours.
Timetable 24H CoTA (local time / German time)
Friday, November 15th
09:15 - 10:45 / 16:15 - 17:45 Free Practice
15:00 - 15:45 / 23:00 - 23:45 Qualifying *
18:00 - 19:30 / 01:00 - 02:30 (+1 day) Night training *
Saturday, November 16th
10:40 / 17:40 Starting grid *
11:30 / 18:30 Start 24H COTA USA *
22:30 / 05:30 (+1 day) Intervention - all cars to the Parc Fermé
Sunday, November 17th
08:00 / 15:00 Start second segment of the 24H COTA USA *
21:00 / 04:00 (+1 day) End of the 24 hours COTA USA *
* Livestream: https://24hseries.com
Further information about the BLACK FALCON team is available daily on the team's social media channels:
instagram.com/teamblackfalcon facebook.com/teamblackfalcon