Hits: 166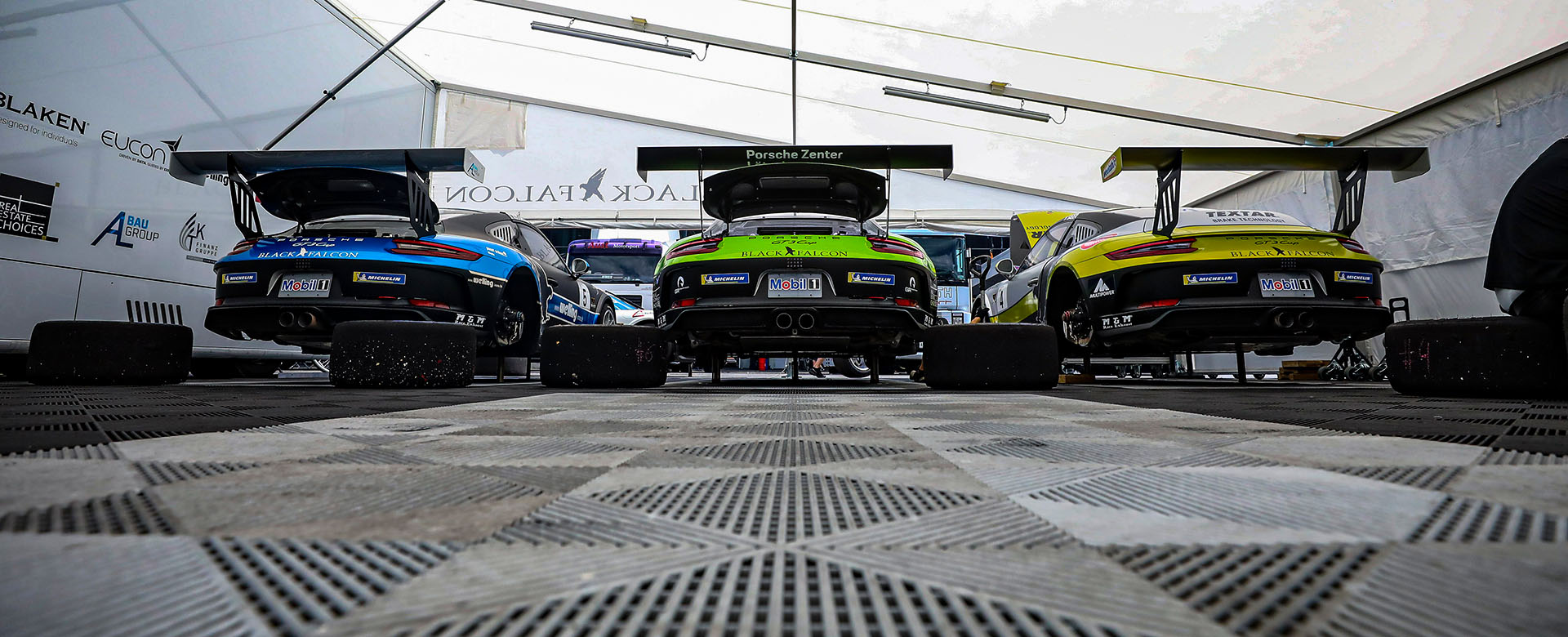 Porsche Carrera Cup Deutschland – Preview Round 3

This weekend BLACK FALCON will participate in the third race weekend of the Porsche Carrera Cup season 2019 at the Red Bull Ring in Austria. As usual, David Kolkmann (#5), Carlos Rivas (#6) and Tim Zimmermann (#50) will compete for BLACK FALCON in the fifth and sixth rounds of the season. Out of the grid is Sören Spreng, who cancelled his participation in the Carrera Cup for personal reasons. This weekend Philipp Sager will take over the cockpit duties from him in the 485 hp Porsche 911 GT3 Cup with starting number 4. The Austrian competes in the Porsche Supercup this season and intends to use the weekend to prepare for the Supercup race at the Red Bull Ring in three weeks' time.
Carlos Rivas travels to Styria as the Gentlemen's Championship Leader after two victories in the B classification in the third and fourth races of the season at Most in the Czech Republic. The Luxembourger wants to extend his lead with two good results. For Tim Zimmermann and David Kolkmann, the Red Bull Ring race is all about catching up with the top of the standings. After two weekends that didn't go perfectly, they both want to attack fully on the roller coaster track.
As usual, the Carrera Cup will be staging two races next weekend. On Saturday morning, the 35-minute qualifying session from 10:15-10:50 a.m. will decide on the grid positions for the fifth and sixth rounds of the championship. The first race will start on Saturday at 16:25 and will last 17 laps. The second race over the same distance will start at 11:40 am on Sunday morning.
General information about the Porsche Carrera Cup Germany
In 2019, the Porsche Carrera Cup Germany will host eight events, each with two championship races each lasting 30 minutes. The DTM will serve as the stage twice, at the season opener at Hockenheim and at the season highlight at the Norisring, as well as the ADAC GT Masters six times. In the overall standings for all participating drivers it's all about the championship title of the Carrera Cup as well as the team championship. Drivers without a professional background in motorsport fight for an additional title in the amateur classification.
TV broadcasting, live streaming and social media
This year the TV station Sport1 broadcasts all Saturday races of the Porsche Carrera Cup Germany live on free TV. The Sunday races are broadcast with a time delay in the evening programme of the same day. In addition, there is a comprehensive live streaming service for all qualifying sessions and races on Porsche's official website as well as on Facebook and YouTube. Further information about the BLACK FALCON team is also available daily on the team's social media channels:
instagram.com/teamblackfalcon facebook.com/teamblackfalcon

Race calendar Porsche Carrera Cup Germany 2019
03. – 05.05: Round1 & 2, Hockenheimring
17. – 19.05: Round 3 & 4, Autodrom Most
07. – 09.06: Round 5 & 6, Red Bull Ring
05. – 07.07: Round 7 & 8, Norisring
09. – 11.08: Round 9 & 10, Zandvoort
16. – 18.08: Round 11 & 12, Nürburgring
13. – 15.09: Round 13 & 14, Hockenheimring
27. – 29.09: Round 15 & 16, Sachsenring