Zugriffe: 4278

More than a track day - the BLACK FALCON Season Warm-Up Algarve
Season Warm-Up Algarve 09.-17th February 2019
Driving pleasure. Under ideal conditions. Amongst professionals. Following the great success of last year's winter season, we have put together another attractive package. The Season Finale & Season Warm-Up Algarve is tailored to the requirements of automobile manufacturers and racing teams. From 13-16th December 2018 and 09-17th February 2019 you get the opportunity to prepare for the season 2019 in an exclusive setting. With a maritime climate and six hours of sunshine per day on average, the Autódromo do Algarve in the south of Portugal offers a demanding track layout. At least on one day we will offer an optional night practice session in the darkness. Safety is our biggest concern; therefore, we only allow a maximum of 30 race cars and solely experienced drivers on track. You can choose whether you want to driver your own car or whether you'd like to participate in one of the Black Falcon race cars. Apart from the 2018 Porsche 991 GT3 Cup we also have the brand-new AMG GT4 at your disposal. We also provide top quality and maximum comfort off track. The 5* hotel Vila Vita Parc Resort&Spa is conveniently located by the Atlantic Ocean and only a 25-minute drive away. A perfect place to relax and end a successful day of testing with a vino and Portuguese culinary delights, surrounded by friends or family. All available for best possible conditions: If you book via Black Falcon, you will receive a best-price guarantee on all room categories. We look forward to your booking and to seeing you in Portugal!

Benefits at a glance - an overview of our offer
Enjoy the southern sun and use the Black Falcon Winter Test Days to prepare for the 2019 motorsport season. The 4.692 kilometre Autodromo do Algarve nesting magnificently in the surrounding topography has nine left-hand and seven right-hand bends. The racetrack's fascination lies in its demanding course and very high safety standards. With a maximum of 30 vehicles on the racetrack, you'll enjoy plenty of freedom and can use the available track time to the full.
Best test conditions: dry, maritime climate, 10-20°C in the shade, average of six hours of sunshine a day
Travel once for up to four (December) or nine (February) days of testing!
Convenient dates with at least one weekend
"Open Pitlane" all day long, event limited to 30 cars
Experienced drivers and professionals only, no street or Formula cars
FIA F1 approved standard guarantees optimum track safety
Very few red flag periods thanks to asphalted run-off areas
Two hours of "Night Practice" - prepare for 24h races
No noise restriction
Top catering included for drivers, co-drivers and accompanying persons
Lunch and dinner catering available for your team members and guests
Possibility to store cars and equipment at the track over the winter
Special conditions with best price guarantee in 5* hotels close to the track
Great selection of Black Falcon race cars for rent
Tyre service available

Taking part in your own vehicle - price list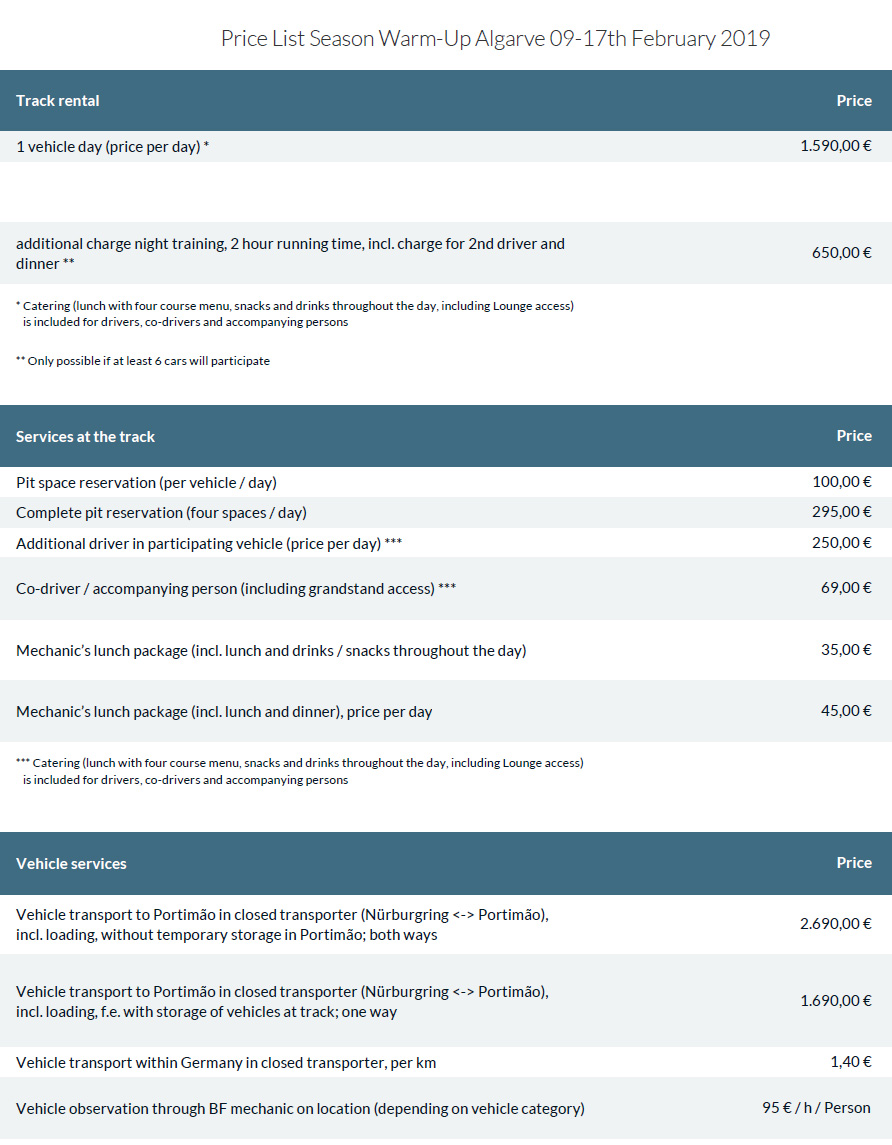 Taking part in a BLACK FALCON racing car - price list
From the near-series Porsche 911 Carrera to the Mercedes AMG GT3, we offer a vehicle fleet leaving nothing to be desired! In contrast to many other companies, we offer "all-inclusive" prices with no hidden additional costs! The following applies to all vehicle rentals:
All-inclusive rental price: provision of vehicle including track rental fee, tires (slicks / rain tyres), fuel, race collision insurance and on-site vehicle attendance
Best price based on usage by two drivers per vehicle and day, incl. 250 kilometres per driver
All prices are quoted in EURO and subject to 19% VAT where applicable
Best price guarantee in 5* Hotels Vila Vita Parc, Pestana Alvor Praia & Pestana Algarve Race
5* Vila Vita Parc
The Moorish-styled luxury 5* resort hotel Vila Vita Parc Resort & Spa is surrounded by luxuriant gardens above cliffs overlooking the Atlantic and has access to its own private sandy beach.
You can choose between modern and stylishly furnished rooms, and luxury suites. All living quarters are equipped with complimentary Wi-Fi, minibar, coffee machine, flat-screen TV and a patio or balcony. The hotel is amongst the best on the Algarve and offers a choice of eight restaurants, two outdoor pools, spa facilities, tennis courts and a gym, minigolf course and kids' club. A highlight is the hotel's own wine cellar – the largest on the entire Iberian Peninsula. You are cordially invited to reserve it for an exclusive supper for up to twelve people during your Season Finale Algarve.

5* Pestana Alvor Praia
The 5* Pestana Alvor Praia is unique in its layout and location. Built directly onto a cliff at the coast of the Algarve, the Beach & Golf Resort offers a stunning view over the sea. A lift built into the cliff takes you directly down to the beach after you've had dinner in one of two high class restaurants. Multiple fitness activities such as tennis, golf and the hotel gym are offered. If you decide to relax after an exhausting day at the track, the Pestana Alvor Praia offers a great SPA area to recharge.

5* Pestana Algarve Race
Located only 3km from the race track the 5*-hotel Pestana Algarve Race offers stylish and modern rooms for your stay at our event. Use the SPA with Outdoor pool, Indoor pool, Jacuzzi, Sauna, Scottish shower and the Turkish Bath after a long day at the track. Also, the hotel offers apartments for up to four persons who also can use all facilities of the hotel as well.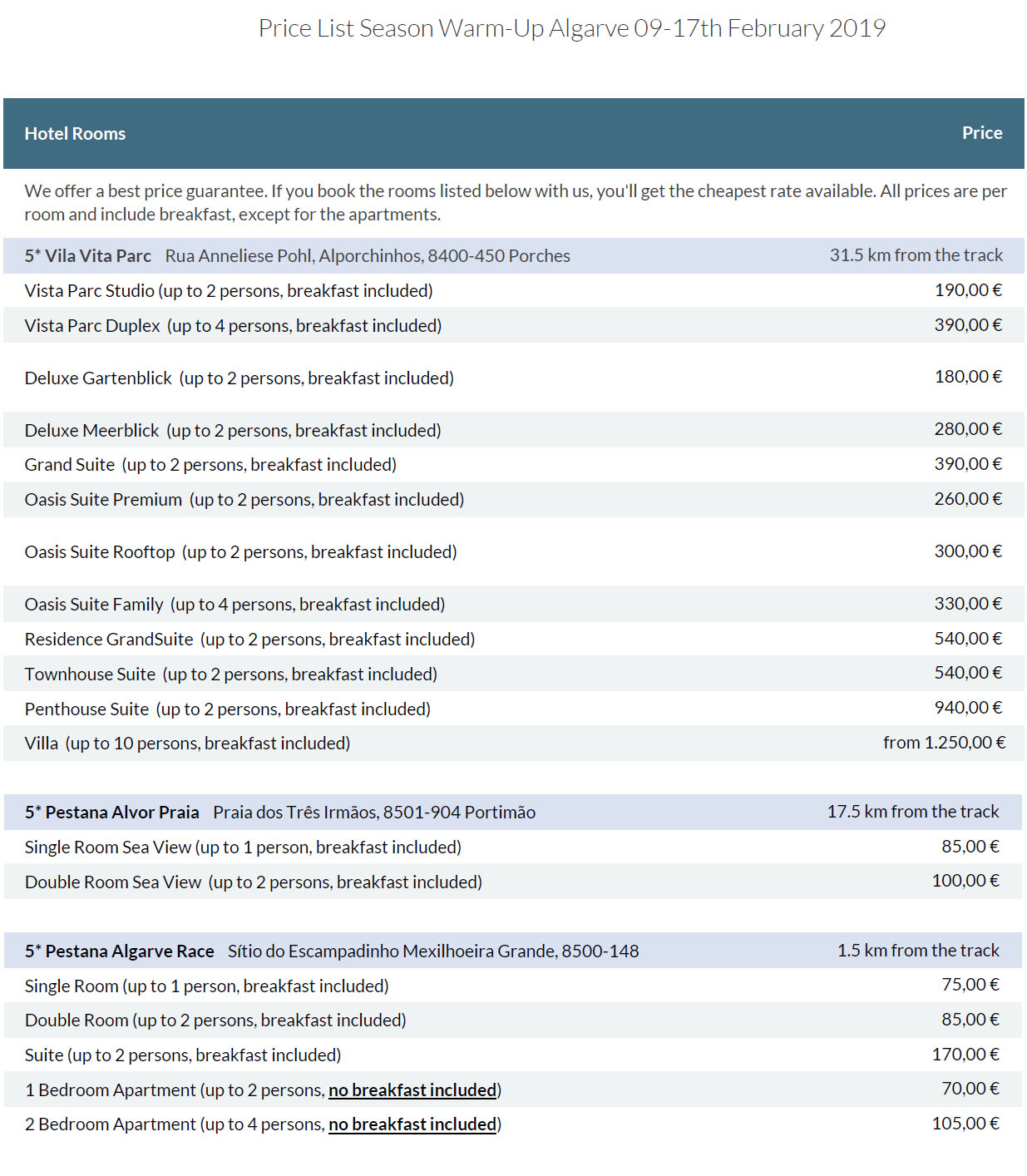 High class catering for your team at the track
The Autodromo do Algarve is located about 20 km outside of the city of Portimao. The location is remote and makes it hard to get a decent lunch for your team during the short break at midday. Therefore, we offer a great solution for your lunch and dinner directly at the track. We provide a buffet during the lunch break and after the afternoon session to make sure your team does not leave the track hungry. A top-class caterer provides delicious food in our tent behind the pit building. On top you get drinks and snacks in our hospitality during the whole day.