Hits: 899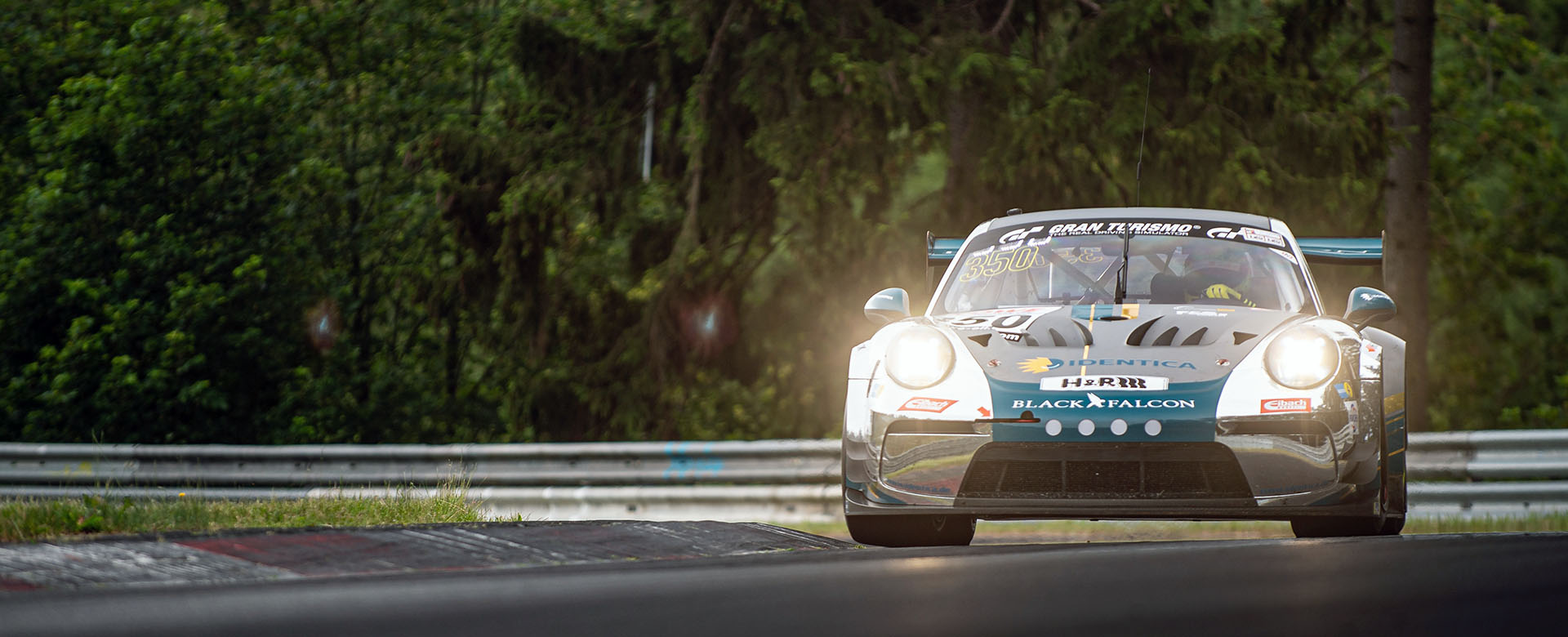 Nürburgring Endurance-Series - Preview Round 2+3 2020

This coming weekend, BLACK FALCON takes part in the first double event in the history of the Nürburgring Endurance Series (NLS). Two endurance races, one on Saturday and one on Sunday, will each cover a four-hour race distance. At the double event, BLACK FALCON will enter two vehicles each. In the SP-PRO class, the BLACK FALCON Team IDENTICA relies on the Porsche 911 GT3 Cup MR-PRO #350, which is driven by Marek Böckmann (Germany), Tobias Müller (Germany) and Carlos Rivas (Luxembourg) in both races. In class SP8T, the Mercedes-AMG GT4 number 155 will race for the BLACK FALCON Team TEXTAR. On Saturday, Maik Rosenberg (Germany), Stephan Rösler (Germany) and Tristan Viidas (Estonia) will alternate in the cockpit of the over 500-hp AMG. For the third race of the season on Sunday, SP8T-experienced Marco Müller (Germany) will take over the driver's seat from Rosenberg and celebrates his racing debut in the BLACK FALCON team.
"We are very much looking forward to the double event. After an excellent start to the season, we aim to achieve further class wins in NLS2 and NLS3 this weekend. For the IDENTICA-Porsche it is also a matter of another top-15 finish among the GT3 cars. If things go well for the TEXTAR-AMG, a place in the top 20 of the overall classification is a realistic target," said Timo Frings, Head of Motorsport at BLACK FALCON, ahead of the event. "We ask all fans not to come to the track, as this weekend will again be held under stricter conditions. As with NLS1, we are offering everyone at home the best possible insight into our racing action with our live onboard cameras in both cars."
The second round of NLS starts on Saturday as usual at 8:30 am with the one and a half hour qualifying, followed by the four hour race at 12:00 am. The same schedule applies to the third race on Sunday.
There will be regular updates about the second and thrid NLS race of the season on the social media channels of BLACK FALCON:
instagram.com/teamblackfalcon facebook.com/teamblackfalcon
Line-Up NLS 2
BLACK FALCON Team IDENTICA
#350 Porsche 911 GT3 Cup MR SP-PRO (SP-PRO) – Marek Böckmann / Tobias Müller / Carlos Rivas
BLACK FALCON Team TEXTAR
#155 Mercedes-AMG GT4 (SP8T) – Maik Rosenberg / Stephan Rösler / Tristan Viidas
Line-Up NLS 3
BLACK FALCON Team IDENTICA
#350 Porsche 911 GT3 Cup MR SP-PRO (SP-PRO) – Marek Böckmann / Tobias Müller / Carlos Rivas
BLACK FALCON Team TEXTAR
#155 Mercedes-AMG GT4 (SP8T) – Marco Müller / Stephan Rösler / Tristan Viidas
Schedule NLS2 + NLS3
8:30 CET – Qualifying
12:00 CET – Race (4 Hours)
Links NLS 2+3
Livestream and onboard cameras for the BLACK FALCON cars #155 and #350:
https://www.nuerburgring-langstrecken-serie.de/en/live/