Hits: 243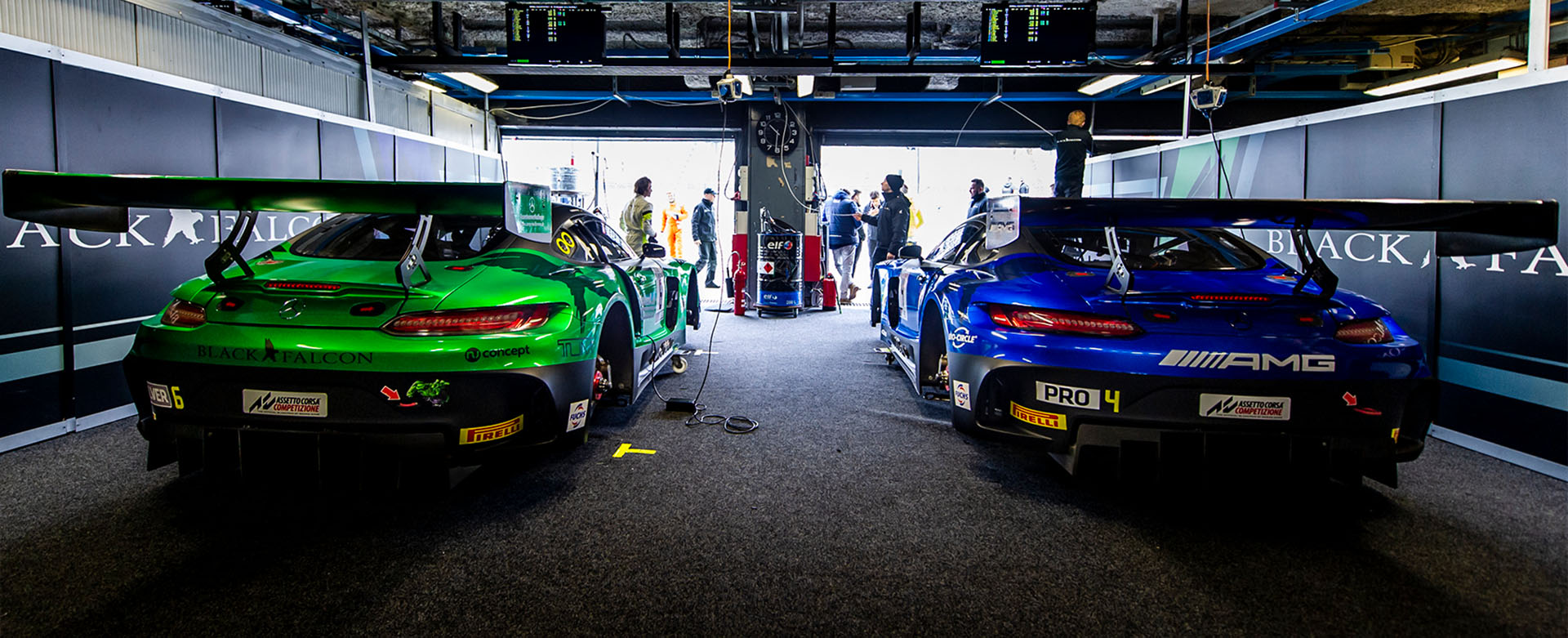 Blancpain GT Series – Race Preview Round 3

Defending Endurance Cup champions BLACK FALCON head to the iconic Silverstone circuit in the UK this weekend, for the second round of the 2019 Blancpain GT Series Endurance Cup. BLACK FALCON are raring to get back into action, having scored both an overall podium in the Pro class and second place in the Silver Cup at the first round at Monza. A field of 48 GT3 cars spread across four classes will do battle at Silverstone, featuring 18 Pro class GT3s and 14 Silver Cup entries.
Yelmer Buurman (Netherlands), Maro Engel (Germany) and Luca Stolz (Germany) continue their campaign in the Pro class #4 BLACK FALCON Mercedes-AMG GT3. Maro and Luca will arrive at Silverstone on a high, having won a race at the Sprint Cup event held the previous weekend at Brands Hatch; matched with their Monza podium, this mean BLACK FALCON currently lead the overall Blancpain GT Teams standings. The #4 BLACK FALCON AMG GT3 joins the race at the Home of British Motor Racing in a special livery: BLACK FALCON's long-time partner Pagid has created the "F1RST for Braking" design and will be present at the Silverstone race with over 200 guests.
Patrick Assenheimer (Germany), Hubert Haupt (Germany) and Gabriele Piana (Italy) showed a strong and safe performance in Monza under the most difficult conditions. Last year the BLACK FALCON Silver Cup car won its class in Silverstone. The three drivers will do everything in their power to repeat this success on Sunday.
The Silverstone event will begin with Free Practice and Pre-Qualifying sessions on Saturday May 10th, at 10.40 and 15.40 BST respectively. The grid will be set during the three-part qualifying to be held on Sunday morning at 09:40 BST, which is guaranteed to be exciting. The three-hour race itself will kick off at 15:00 BST. After the torrential rain of Monza, dry weather is thankfully forecast – but whatever the conditions the team will be ready.
General information about the Blancpain GT Series
In the 2019 season, the Blancpain GT Series features ten rounds of racing on Europe's most famous circuits. The championship is divided into two disciplines, each with its own classification: The Blancpain GT Series Endurance Cup, which consists of a 1000km race, three 3-hour races and the famous 24-hour race at Spa-Francorchamps, and the Blancpain GT World Challenge Europe, which runs two one-hour races over five race weekends. BLACK FALCON takes on the role of defending team and driver champion in the Endurance Cup in 2019 and extends its commitment to the World Challenge Europe sprint discipline to win the overall Blancpain GT Series championship.
Event Timetable (All Times MET)
Blancpain GT Series Endurance Cup – Silverstone

Saturday, 11. May
10:40 – Free Practice
15:40 – Pre-Qualifying
Sunday, 12. May
09:40 – Qualifying *
15:00 – Start Race *
* Livestream: https://blancpain-gt-series.com
TV broadcasting, live streaming and social media
For all qualifying sessions and races, a extensive live streaming service including live timing is available on the official Blancpain GT Series website, YouTube and Facebook channel. Further information about Team BLACK FALCON is available daily on the team's social media channels:
instagram.com/teamblackfalcon facebook.com/teamblackfalcon